185mm2 Low voltage steel tape armoured screened power cable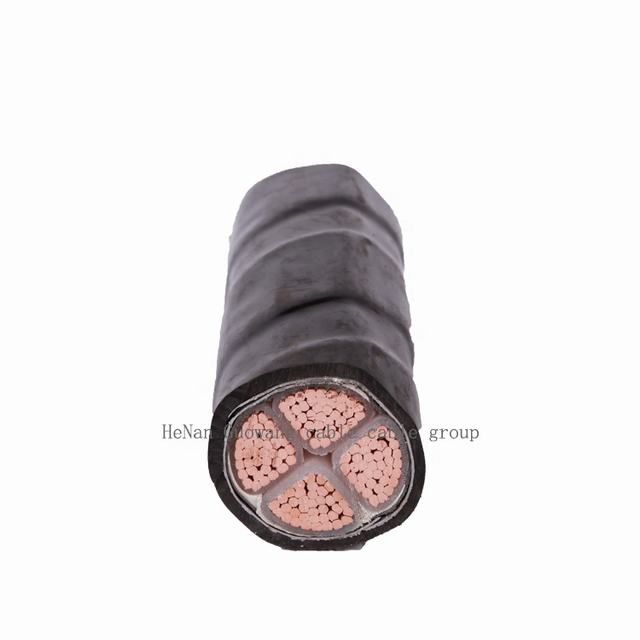 | | |
| --- | --- |
| Hafen: | Qingdao |
| Zahlungsbedingungen: | L/C,T/T,Western Union,MoneyGram |
| Lieferbar: | 50000 Kilometer/Kilometer via Month 185mm2 Low voltage steel tape armoured screened power cable |
| Ursprungsort: | China |
| Markenname: | guowang |
| Modellnummer: | YJV32 |
| Leiter-Material: | Kupfer |
| Isolierungs-Material: | XLPE |
| Jacke: | PVC |
| Zahl der Leiter: | 1,3,3+1 |
| Anwendung: | power cable |
| conductor: | copper |
| insulated: | xlpe |
| color: | black |
| armoured: | steel wire |
| jacket: | pvc |
| type: | YJV22,YJV32 |
| sectional area: | 1.5-1000mm2 |
| Working temperature: | 90℃ |
| cores: | 1,3,3+1,3+2 |
| Name: | 2020 new steel wire armoured cable |
| Verpackungsdetails: | 1) STANDARD PACKAGE: 100/ROLL FOR SIZE UNDER 35SQMM SPECIFIC LENGTH IN AN EXPORT WOODEN DRUM. 2) IN EXPORT WOODEN DRUMS FOR SIZE LARGER THAN 35SQM, WHILE WOVEN BAGS PACKING FOR OTHER TYPE. 185mm2 Low voltage steel tape armoured screened power cable. |
#specifications a{color:#2192d9;text-decoration:none;}#specifications a:hover{color:rgb(252,106,33);text-decoration:underline;}#specifications a:visited{color:#2192d9;text-decoration:none;}
#detail_decorate_root .magic-0{border:0 solid black;position:relative;box-sizing:border-box;display:flex;flex-direction:column;align-content:flex-start;flex-shrink:0}#detail_decorate_root .magic-1{white-space:pre-wrap;border:0 solid black;position:relative;box-sizing:border-box;display:block;flex-direction:column;align-content:flex-start;flex-shrink:0;font-size:48rem;font-family:Roboto;border-bottom-style:solid;border-bottom-color:#53647a;color:#53647a;font-style:normal;border-bottom-width:2px;padding-top:8px;padding-bottom:4px}#detail_decorate_root .magic-2{overflow:hidden}#detail_decorate_root .magic-3{width:750rem;margin-bottom:20rem}#detail_decorate_root .magic-4{border:0 solid black;position:relative;box-sizing:border-box;display:flex;flex-direction:row;align-content:flex-start;flex-shrink:0;width:750rem;flex-wrap:wrap}#detail_decorate_root .magic-5{border:0 solid black;position:relative;box-sizing:border-box;display:flex;flex-direction:column;align-content:flex-start;flex-shrink:0;overflow:hidden;width:750rem;height:301rem;margin-top:0;margin-left:0}#detail_decorate_root .magic-6{margin-top:-214rem;margin-left:-16rem;width:676rem;height:676rem}#detail_decorate_root .magic-7{border:0 solid black;position:relative;box-sizing:border-box;display:flex;flex-direction:column;align-content:flex-start;flex-shrink:0;overflow:hidden;width:750rem;height:324rem;margin-top:0;margin-left:0}#detail_decorate_root .magic-8{margin-top:0;margin-left:0;width:750rem;height:324rem}#detail_decorate_root .magic-9{margin-bottom:20rem}#detail_decorate_root .magic-10{width:749rem;border-left-style:solid;border-left-width:1rem;border-left-color:#ccc;overflow:auto;border-collapse:collapse}#detail_decorate_root .magic-11{background-color:#f7f8fa}#detail_decorate_root .magic-12{border:1px solid #ccc;box-sizing:content-box;display:undefined;background-color:#f7f8fa;vertical-align:top;border-spacing:0;padding:0}#detail_decorate_root .magic-13{box-sizing:contentBox;padding-left:10rem;padding-right:10rem;padding-top:5rem;padding-bottom:5rem;min-height:36rem;width:261rem;min-height:18px;word-break:keep-all;overflow:hidden}#detail_decorate_root .magic-14{box-sizing:contentBox;padding-left:10rem;padding-right:10rem;padding-top:5rem;padding-bottom:5rem;min-height:36rem;width:443rem;min-height:18px;word-break:keep-all;overflow:hidden}#detail_decorate_root .magic-16{border:1px solid #ccc;box-sizing:content-box;display:undefined;vertical-align:top;border-spacing:0;padding:0}#detail_decorate_root .magic-17{border:0 solid black;position:relative;box-sizing:border-box;display:flex;flex-direction:column;align-content:flex-start;flex-shrink:0;overflow:hidden;width:750rem;height:762rem;margin-top:0;margin-left:0}#detail_decorate_root .magic-18{margin-top:7rem;margin-left:1rem;width:750rem;height:752rem}#detail_decorate_root .magic-19{border:0 solid black;position:relative;box-sizing:border-box;display:flex;flex-direction:column;align-content:flex-start;flex-shrink:0;overflow:hidden;width:750rem;height:150rem;margin-top:0;margin-left:0}#detail_decorate_root .magic-20{margin-top:0;margin-left:0;width:750rem;height:150rem}#detail_decorate_root .magic-21{border:0 solid black;position:relative;box-sizing:border-box;display:flex;flex-direction:column;align-content:flex-start;flex-shrink:0;overflow:hidden;width:750rem;height:262rem;margin-top:0;margin-left:0}#detail_decorate_root .magic-22{margin-top:0;margin-left:0;width:750rem;height:262rem}#detail_decorate_root .magic-23{margin-bottom:10rem;overflow:hidden}#detail_decorate_root .magic-24{border:0 solid black;position:relative;box-sizing:border-box;display:flex;flex-direction:column;align-content:flex-start;flex-shrink:0;margin-bottom:20rem}#detail_decorate_root .magic-25{border:0 solid black;position:relative;box-sizing:border-box;display:flex;flex-direction:column;align-content:flex-start;flex-shrink:0;vertical-align:top}#detail_decorate_root .magic-26{border:0 solid black;position:relative;box-sizing:border-box;display:flex;flex-direction:column;align-content:flex-start;flex-shrink:0;vertical-align:top;padding-right:8rem;padding-left:8rem}#detail_decorate_root .magic-27{border:0 solid black;position:relative;box-sizing:border-box;display:flex;flex-direction:column;align-content:flex-start;flex-shrink:0;vertical-align:top;padding-bottom:8rem;padding-top:8rem}#detail_decorate_root .magic-28{padding-top:0;padding-right:0;padding-bottom:0;padding-left:0;margin-top:0;margin-right:0;font-size:28rem;margin-bottom:0;margin-left:0;white-space:pre-wrap}#detail_decorate_root .magic-29{border:0 solid black;position:relative;box-sizing:border-box;display:flex;flex-direction:column;align-content:flex-start;flex-shrink:0;overflow:hidden;width:181rem;height:136rem;margin-top:0;margin-left:0}#detail_decorate_root .magic-30{margin-top:.9836956521739131rem;margin-left:-42.298913043478265rem;width:303rem;height:136rem}#detail_decorate_root .magic-31{border:0 solid black;position:relative;box-sizing:border-box;display:flex;flex-direction:column;align-content:flex-start;flex-shrink:0;overflow:hidden;width:181rem;height:136rem;margin-top:0;margin-left:8rem}#detail_decorate_root .magic-32{margin-top:-2.9510869565217392rem;margin-left:-10.820652173913043rem;width:299rem;height:137rem}#detail_decorate_root .magic-33{margin-top:0;margin-left:0;width:181rem;height:151rem}#detail_decorate_root .magic-34{margin-top:0;margin-left:0;width:188rem;height:125rem}#detail_decorate_root .magic-35{border:0 solid black;position:relative;box-sizing:border-box;display:flex;flex-direction:column;align-content:flex-start;flex-shrink:0;overflow:hidden;width:181rem;height:156rem;margin-top:0;margin-left:0}#detail_decorate_root .magic-36{margin-top:0;margin-left:0;width:181rem;height:156rem}#detail_decorate_root .magic-37{border:0 solid black;position:relative;box-sizing:border-box;display:flex;flex-direction:column;align-content:flex-start;flex-shrink:0;overflow:hidden;width:181rem;height:156rem;margin-top:0;margin-left:8rem}#detail_decorate_root .magic-38{margin-top:0;margin-left:0;width:234rem;height:156rem}#detail_decorate_root .magic-39{margin-top:0;margin-left:-2.9510869565217392rem;width:234rem;height:156rem}#detail_decorate_root .magic-40{border:0 solid black;position:relative;box-sizing:border-box;display:flex;flex-direction:column;align-content:flex-start;flex-shrink:0;overflow:hidden;width:750rem;height:361rem;margin-top:0;margin-left:0}#detail_decorate_root .magic-41{margin-top:0;margin-left:0;width:750rem;height:361rem}#detail_decorate_root .magic-42{border:0 solid black;position:relative;box-sizing:border-box;display:flex;flex-direction:column;align-content:flex-start;flex-shrink:0;overflow:hidden;width:750rem;height:450rem;margin-top:0;margin-left:0}#detail_decorate_root .magic-43{margin-top:0;margin-left:0;width:750rem;height:450rem}
Product Description
Specification
| | |
| --- | --- |
| STANDARD | IEC60502, BS6346, VDE, AS/NZS, UL |
| VOLTAGE | 0.6/1KV |
| NUMBER OF CORES | 1, 2, 3,4,5, 3+1, 3+2, 3+3, 4, 4+1, 4+2,5+1 |
| SECTIONAL AREA | 1.5~800mm2 |
Packing & Delivery
Company Profie
Founded in 1998, Henan Guowang Cable Co., Ltd is one of the main cable manufacturers in China specializing in Wire & Cable production, R&D and marketing. It is located in Guodian Modern industrial Zone in Xinzheng, Zhengzhou, Henan Province and next to Xinzheng Airport, with convenient transportation. With a registered capital of 18,000,000 USD, 100,000 m2 workshop, 460 staffs, 60 engineers and technicians, 190 sets of advanced production equipments, first-class testing machines, Guowang Cable has been the main force of rapid rise of cable industry of Henan province.
The products involve more than 400 models and 20000 kinds of specifications, and are widely applied in electrical power system, petrochemical, construction, metallurgy, ship, railway, aviation etc.
We have customers in more than 60 countries and regions around the world, such as Europe, Asia, South Africa, South and North America, Middle East and Oceania. Our strong technical capabilities paired with our strict quality control processes, have helped us create a strong reputation in the cable manufacturing industry. If you are interested in our products or have any questions, don't hesitate to contact us!
FAQ
Business Card
Tags:
185mm2 power cable
,
low voltage power cable
,
steel tape armoured screened power cable
Contact us